Heated Bat Boxes
MAB Environment & Ecology have teamed up with local craftsmen Paul Bulmer Furniture to create a top quality, long-lasting, environment-friendly, heated bat box. All our boxes are specially designed for maternity (breeding) roosts, with a range of internal conditions provided. These deluxe boxes were originally designed for use on historic buildings, and are in use on several listed buildings across Yorkshire and County Durham.
Our boxes have a special internal design with a series of baffles (made from sustainable birch ply) to provide a range of crevices with differing temperature profiles. The roof is covered with lead, a natural product that avoids the need for preservatives or varnishes. The bat boxes are designed to last 20 years.
Especially designed for mitigation (roost replacement) where the original roost was affected by a heat source such as behind boilers or heating pipes. Simply plug into a domestic supply, and it will cost about £14 per year to run. There is an insulated division within the box to create temperature gradients.The box has a steel bar on the back, so screw the brackets to the wall, then simply lift the box onto the brackets and drop it on.
The exterior is FSC Red Cedar, with a lead-covered FSC Grade Ply roof.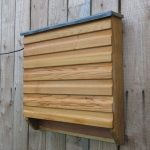 Dimensions: 500 mm x 600 mm x 200 mm
Cost: £600 plus VAT
We arrange delivery with a courier, the cost of which is around £20 for one box. Please contact us for a quote.
To place an order simply contact us and we'll send you an invoice.
Customers include Access Ecology, Doncaster college, City of York Council, Pearce Environmental, Dumfries County Council, Bowland Ecology, City of Durham Council, Aecom.